FAQ
1. Who We Are
What is Humaniversity Therapy?
Our therapy comes from a blend of many schools of Eastern and Western psychology. We apply the concepts and tools our experience has shown to work best. Therefore, much of our work is done in a group setting, because the support and healing effect of people going through a process together is very powerful. Our therapy is based on two principles. First we help you to process and let go of what holds you back from going for what you want in life. Second we will support you to actually create the life that you've always dreamed of. In the safe environment we create, you will be invited to take risks and step out of your self-imposed limits, so you can practice new ways of being that are more fulfilling.We use sharing, emotional expression, bodywork, communication and healing exercises in order to get in touch with and clear out your old stored pain and frustration. We help you to replace negative beliefs with love and an inspiration to move forward. We will guide you to open your heart to yourself and others in a healthy way. When you go home, you will be able to apply what you've practiced here so you can improve your relationships and the overall quality of your life.
In this 3-minute video, Dharmaraj, a Humaniversity staff member and a therapist, talks about what is Humaniversity Therapy:
Humaniversity Concepts
In this 2-minute video Dharmaraj, a Humaniversity staff member and a therapist, talks about the concepts Humaniversity Therapy is using, for example: How does "Love is Always the Answer" become a tool in therapy?
How does Humaniversity Therapy differ from other types of therapy?
Dharmaraj, a Humaniversity staff member and therapist, explains here in 2 minutes what's the basic difference between Humaniversity Therapy and most other types of therapy:
Meditation and Therapy
In this 2-minute video, Dharmaraj, a Humaniversity staff member and a therapist, talks about the connection between meditation and therapy. How can you broaden your awareness, and how to help people in their process to move from the head to the heart:
2. Programs
Where are your programs and meditations held?
All of our programs and meditations are offered at the Humaniversity in Egmond aan Zee, about 1 hour from Amsterdam.
You can also participate in the AUM and other Social Meditations all around the world.
Which meditations can I do at your center?
Most Mondays at 17:00 we offer an Active Meditation that is open to the public. This can be one of our Social Meditations, or an OSHO Active Meditation.
Please contact us in advance to reserve your place. 
What is the age range of the participants in your programs?
We have participants from 18 to 80 years old.
I have a physical problem or disability. Can I participate in your programs?
We will help you to participate as much as possible. Please contact us for details.
Do you offer individual sessions?
Yes. We offer individual sessions in which you can work one-to-one with a therapist on an issue in your life. You can choose from counseling, trauma healing, bioenenergetics, emotional release and more.
For body health, we offer various types of massage and OSHO Rebalancing bodywork sessions.
View and book sessions here, or contact us for more information.
3. Language
My English is not very good. Will this be a problem for me?
Only a basic level of English is necessary. Many of the sessions are focused on moving and feeling, not on speaking.
If necessary, you are welcome to bring a translator with you. Please contact us for more information.
What language is used in the programs?
Because our participants come from many different countries, all of our programs are conducted in English, though many languages are spoken on our campus.
4. Staying Here
The Benefits of Communal Therapy
In this 1-minute video, Dharmaraj, a Humaniversity staff member and a therapist, talks about the benefits of communal therapy. "Communal therapy is a therapy in 3D:
Do the workshops include food and accommodation?
Generally yes. Meals and dormitory accommodation are included in the fee of most of our courses. For festivals, the Mega AUM, and occasional programs marked non-residential they are not included. Bedding and towels are not included in your accommodation fee, though we do provide a pillow. You are welcome to rent bedding and towels here if you do not wish to bring your own.It is possible to arrange to stay overnight after a workshop, or to arrive the day before (until 18:00). Please contact the Booking Office to arrange your registration.We have additional facilities including a coffee shop where you can purchase drinks or snacks. We use an in-house voucher system for payment, which we find to be safe and convenient.
What kind of accommodation do you offer?
We provide dormitory accommodation. All of our dormitories offer semi-private bed spaces and have been recently renovated in an elegant modern style.We also have a limited number of private rooms available. If you would be interested in staying in a private room during your program, please contact us.
What kind of food do you serve?
We serve mostly vegetarian meals. If you have any other dietary needs, we ask you to provide these for yourself. If you have food allergies or other medical needs please let us know beforehand.
Are there shops nearby?
Yes. The main shopping street of the village is a 10 minute walk. It has a supermarket, a drugstore, clothing stores, cash machines and a post office.
Do you have a telephone, internet access, and a laundry that I can use?
We have free cable (ethernet) and Wi-Fi access in designated areas and at designated times of the day. For ethernet cable access, you might need to bring an adaptor for your laptop or phone.
We also have a coin-operated telephone and laundry machines available at the Humaniversity. 
Can I live and work at the Humaniversity?
We welcome new people in our community. The Student Program is the best way to have your Living-In Experience at the Humaniversity: you can live, work and learn about yourself with us. For this and other offers check out our Living-In Programs.
Can you help me to get a visa to come to your center?
After you have paid the full fee of your program, we will send you a letter confirming that your stay is paid for. You can take this letter with you to the embassy to get your visa. The Humaniversity is a private institution and does not meet the requirements for the issuing of student visas.
5. What Do I Need To Bring?
What do I need to bring with me?
When you make a reservation for a program, you will receive an e-mail with detailed information attached about what to bring. To get a general idea, read here what's commonly recommended for workshops:
Loose, comfortable clothing with plenty of t-shirts (ca. 3 t-shirts per day) for sessions, dancing, exercises and meditations. Coin-operated laundry machines and detergent are available.
Indoor sports or exercise shoes for the group room, and rubber slippers for the showers and sauna.
Depending on the season, it's good to bring warm clothes, jacket and shoes for beach walks. If you like to go swimming, bring a swimsuit for beach visits.
For parties and our nightclub, bring stylish clothing you like to wear.

For your accommodation: Bring a duvet or sleeping bag, plus duvet cover, mattress cover, a pillow case and towels. We provide a pillow. (Mattress size: 120 x 200 cm; duvet size: 150 x 200 cm)It is also possible to rent bedding set and towels here instead.

A notebook and pen
Your personal water bottle
Please do not bring:
Perfumes, essential oils and strongly scented products (shampoo & hair products, aftershave, deodorants, scented creams, etc.) because there are people in our community who suffer from asthma and strong allergies to fragrances, and these products can cause them respiratory distress.
6. Payment
What types of payment do you accept?
On our website we accept bank transfers, iDeal, Visa and MasterCard. In our office we accept cash, Visa, MasterCard, Maestro, and Dutch PIN cards.
Bank Transfer
You can make a bank transfer to the name of:
Stichting Humaniversity, Egmond aan Zee, The Netherlands
ING Bank, Weijdestraat 2, 1817 MJ Alkmaar, The Netherlands
Bank Identifier Code (BIC or Swift Code): INGBNL2A
International bank account number (IBAN): NL27 INB 0651 1588 85
Please mention your name and the name of the program or product you are paying for.
NOTE: Be aware that some time is needed before the payment enters our bank account. Please bring with you or send us a copy of your bank statement.
How Do I Make a Donation?
We have built a beautiful front gate that Veeresh designed. If you would like to be part of supporting this or our work in general, you are welcome to make any donation. We are grateful for your help.
You can use the PayPal button below:
€10 – Small Donation
€50 – Appreciative Donation
€100 – Kind Donation
Any Amount
Or you can make a bank transfer to: 
Stichting Humaniversity, Egmond aan Zee, The Netherlands
Bank details:
ING Bank, Weijdestraat 2, 1817 MJ Alkmaar, The Netherlands
Bank Identifier Code (BIC or Swift Code): INGBNL2A
International bank account number (IBAN): NL27 INB 0651 1588 85
Please mention your name and 'Donation'. In case you would like to stay anonymous, we will of course respect this.
If you would like to use a credit card, please call us: +31 (0)72 506 4114
Humaniversity KVK & BTW/VAT
Stichting Humaniversity is an organisation registered in accordance with the law of the Netherlands. Our particulars are as follows: Registration: This website and the web shop operated on it is owned and operated by Stichting Humaniversity.
We are registered at the Chamber of Commerce,
Alkmaar, Netherlands under Registration Number KvK 41150542.
Our VAT number is NL VAT 0062.05.884.B01
7. Getting Here
How do I get to the Humaniversity?
The Humaniversity is located in Egmond aan Zee, a village on the north-west coast of Holland, about an hour from Amsterdam and Schiphol Airport.
By Public Transportation from Amsterdam or Schiphol Airport:
By Train & Taxi: Take the train from Schiphol Airport or Amsterdam Central Station to Heiloo
Station (info at www.ns.nl). If you are coming from the airport, you will need to change trains at Sloterdijk Station (or Zaandam Station) and the journey takes around one hour. When you buy your train ticket at Schiphol Airport ask the train information desk what time your train is expected to arrive in Heiloo. While still at the airport, call the taxi company Zwart, 0031 (0)72 533-1313 and reserve a taxi from Heiloo to the Humaniversity that fits with your expected arrival time. That way you won't have to wait too long at Heiloo.
To return to Heiloo Stationyou need to call Taxi Zwart from your phone, leaving your name and number with them. Call them well in advance, especially for very early or late pick-up times.
By Train & Bus: It is also possible to reach the Humaniversity entirely by public transport, using a train and then a bus instead of a taxi. Please be aware that the bus services are not available at all times. To plan your route, use the very helpful website www.9292.nl/en. Fill in your starting point in the Netherlands, such as Schiphol Station (train station inside the airport), and then put our address, Dr Wiardi Beckmanlaan 4, Egmond aan Zee, as the destination. It will then give you step-by-step instructions on how to get here including all connections.
By Car: Drive on the A9 to the roundabout at Alkmaar. Then take the N9, towards Den Helder and follow the signs to Egmond, after that Egmond aan Zee and continue until you see the Humaniversity on your right.
If you are arriving by car, you need to reserve a parking space in advance, as we have limited parking on our premises. Please send us details of your vehicle in advance. Once you have arrived, you will be informed in the Booking Office where you can park. Please be aware that at times when we have many cars arriving you will need to park on the street. More info on street parking you can find here or here.
During our festivals there is no parking available on our premises.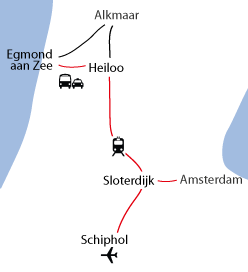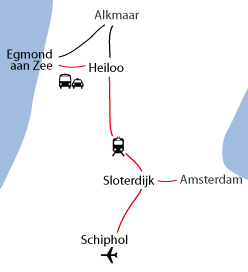 Address
Humaniversity
Dr. Wiardi Beckmanlaan 4
1931BW Egmond aan Zee
Netherlands
Tel: +31 72 506 4114
When should I arrive?
You need to arrive at least one hour before your program begins in order to complete registration. Once you make a reservation, we will send you the registration times in the confirmation. If you arrive the day before, we ask you to inform our Booking Office and arrive latest by 18:00 so we have time to welcome you.
8. Shipping
Shipping
We ship physical products with PostNL, and we ship within two working days from receiving the payment of your order.
We offer one shipping and handling price per order:
Netherlands: € 7.00
Europe1): € 14.00
Outside of Europe: € 20.00
For shipments outside of the European Union, there may be duties and taxes imposed on your order that aren't reflected in our prices. Check with your local customs office for those charges. In addition, some countries may charge an additional handling fee for delivery within that country.
1)Europe:Albania, Andorra, Austria, Belarus, Belgium, Bosnia-Herzegovina, Bulgaria, Canary Islands, Channel Islands, Croatia, Cyprus, Czech Republic, Denmark, Estonia, Faroe Islands, Finland, France, Germany, Gibraltar, Greece, Greenland, Hungary, Ireland, Iceland, Italy, Latvia, Liechtenstein, Lithuania, Luxembourg, Macedonia, Malta, Moldova, Montenegro, Norway, Poland, Portugal, Romania, Russia, San Marino, Serbia, Slovakia, Slovenia, Spain, Sweden, Switzerland, Turkey, Ukraine and Vatican City.
Digital Products
Digital products are available to download immediately after receiving payment of you order.
9. Product Returns
Product Returns
If you are not satisfied with your order you can return the product within 14 days of receiving it, in accordance with our terms and conditions. Please contact us to initiate your return. The product must be sent back no later than 14 days from the day on which you initiated return. The product should be returned together with all relevant accessories and as far as possible in its original state and packaging. You are responsible for the return shipping costs. You will receive the refund of your payment for the product within 14 days. Purchase of digital items is non-refundable.
10. Program Cancellations
Program Cancellations
Humaniversity respects and complies with the consumer's right to a cooling-off period. This is built into your General Participation Contract. – Here is an extract:
Cancellation during the Cooling-off Period
I understand that:
Under the law, I am entitled to a 'cooling-off' period during which I can cancel this contract without giving any reason and receive a full refund without any deduction.
This cooling off period begins on the date of contract and ends 14 days later, or when I start my program, whichever happens first.
The date of contract is the date I sign my contract, submit my online application form, or pay for my program, whichever happens first.
Cancellation after the Cooling-off Period
If you cancel your contract after the cooling-off period and before the start of your program: you will receive a refund less a €50 administration fee and any bank charges or other expenses directly relating to the transfer of your refund.
If you have benefited from a special discount price for your program: your refund shall be reduced additionally by 20% of the amount you paid.
If you cancel your contract after the start of your program: no refund will be made.
Program Changes
Humaniversity reserves the right to alter or cancel the scheduled program of courses or their location at any time. It agrees to give you notice of any such changes at the earliest opportunity. If Humaniversity postpones or cancels a program and you notify Humaniversity that the altered schedule is not acceptable to you, Humaniversity agrees to refund all money you have paid for the program.
Procedures
All cancellations must be made in writing.
All refunds will be paid within 14 calendar days of the date of cancellation.
Specific Cancellation and Payment Terms
The general policy above applies to all programs. The following programs have additional special cancellation policies and payment terms:
Individual Sessions
If you are unable to attend or need to reschedule your session, please give us 48 hours notice.
If you miss your session, you will be charged for the full price of the session.
Therapist Training, Encounter Training, Sexuality Training and Personal Education Course
Each training year has two payment terms. The first term is due before the first day of the training year, and the second term is due 60 days thereafter. (See exception below for Therapist Training)
The replacement fee for missed workshops and tutorials is the full price of the individual workshop or tutorial day. If you present a signed note from your physician, the replacement fee is €85.00. (See exception below for PEC)
For Therapist Training Only
If you begin Level I or Level II with participation in the WOW, 70% of the fee for the training year must be paid before commencing the training, and the remaining 30% must be paid before the start of the first weekend group.
For Personal Education Course (PEC) Only
The PEC is designed to be a flexible course and has no replacement fees. In consultation with your course counselor, you may replace the workshops of the PEC with other workshops that we offer.
One-Year Intensive
Each training year has two payment terms. The first term is due before the first day of the training year, and the second term is due 60 days thereafter.
In the case of interruptions to the program, you will change to the quarterly module plan and payment structure.
One-Year Intensive (Payment in Quarterly Modules)
The program has 4 quarterly payments, each due at the beginning of every module.
In the case of interruptions to the program, due to staff advice, financial or medical reasons the program will be extended by the number of days that you were out.
Humaniversity Addiction Program Intensive (HAPI)
The fee for each month is due at the beginning of the month. If you leave during the month, there is no refund.
Tan-Ju Program
We offer a try-out period for all participants during the first three days of your program. If you decide to stop the program during this time, we will charge you the day price times the number of days attended.
Wellness Weeks
Payment of 30% of the course fee is due at the time of booking to confirm your reservation. In the case of cancellation before the beginning of the program and after the 14-day cooling off period, we will refund your payment less the 30% deposit.