What We Do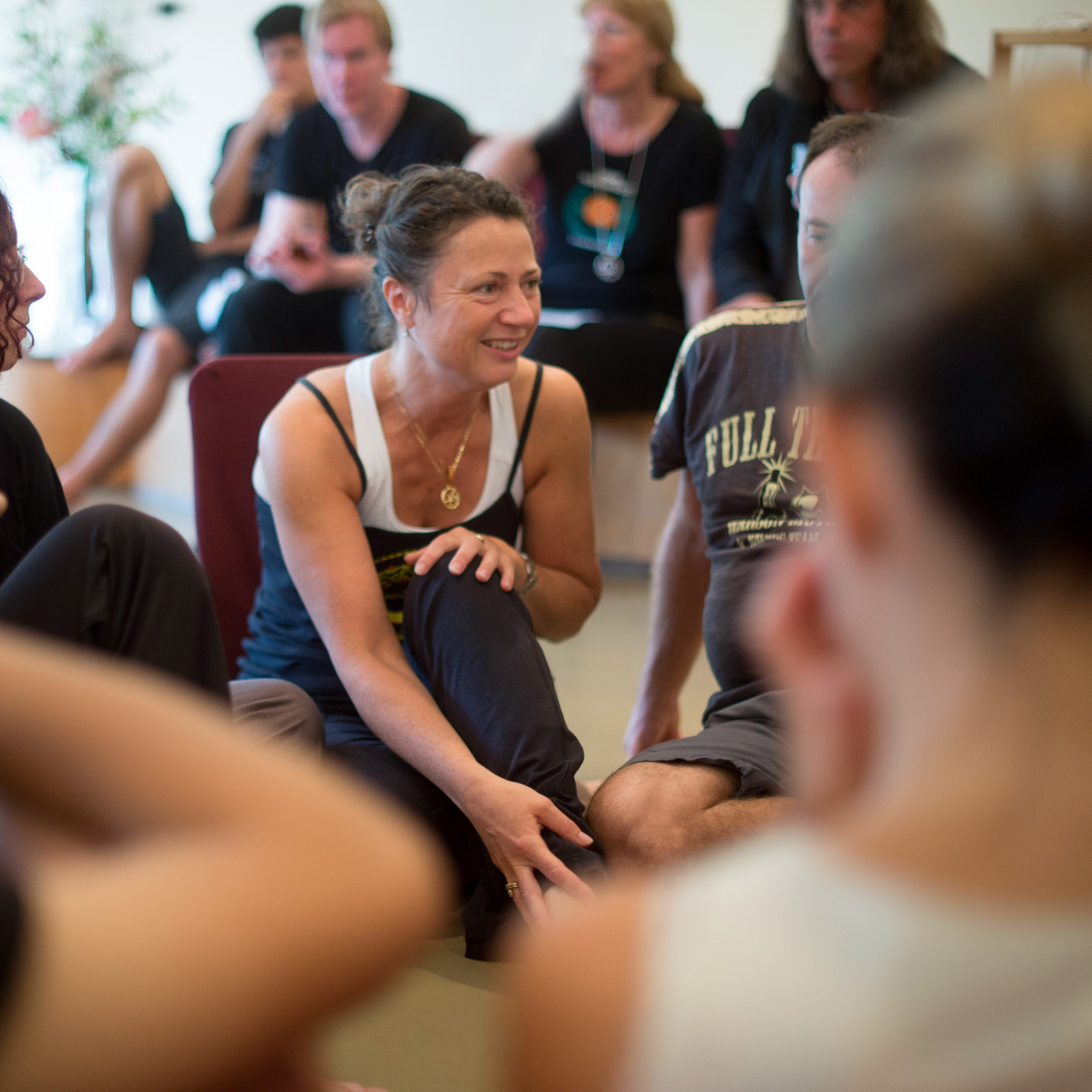 Humaniversity Therapy is a dynamic and interactive method of encouraging healthy personal growth. Whether you are struggling with a personal challenge or want to maximize your enjoyment of life, we offer the tools, skills and setting to support you on your journey.
Our work can help you to overcome blocks and insecurities and let go of old, painful feelings and beliefs that have led you into the same frustrating situations over and over again. In addition, it prompts you to discover your many positive qualities, such as joy, compassion, self-esteem, a spiritual connection, your ability to form relationships and your great capacity for love.
Our Key to Success
One of the things that makes the Humaniversity unique is that learning takes place in a communal setting: It's residential and works 24/7. The group dynamic and support accelerates and strengthens your own healing process. You can study with us for a few days, a week, or even several years – depending on the time you have available.
Some of our methods may seem new to you. You may be working with hugging, emotional release, social meditations, encounter, bodywork, sharing, as well as individual coaching. We use all of these methods and more to guide you on a journey of becoming more conscious about yourself: your inner world, your behaviour and your relationships. Integrating all your experiences and insights will let you navigate your life with more understanding, more self-acceptance, more confidence and more success.
It's a fact: The more you practice what you want, the better you become at getting it. If you want to be a loving human being, you need to practice giving the love that you need. People who are lonely build walls instead of bridges. When you practice giving yourself, being yourself, those around you are blessed by your presence. It is just a matter of practice, being who you are.

Veeresh
As Humaniversity Therapists, we are dedicated to find the best process for you. We provide a safe environment where you can try new ways of being that are more fulfilling. You have many possibilities to practice forming healthy relationships and to create deep friendships. This unique way of working will give you the tools and trust to live a life of passion and aliveness.
Some of the methods we use are
Open Communication and Encounter
Group Sharing and Coaching
Emotional Release
Bodywork
Active Meditation
Bioenergetics
Primal Work
Personal Empowerment
Trauma and Addiction therapy
Relationship Exercises
Hugging, Friendship and Sharing
Sensitivity and Sexuality
Theater and Creativity
Beach and Nature Walks
Massage
If you want to know specifically about how these methods are being used in our work, please see the individual program descriptions or contact us.
More about Humanversity Philosophy, Psychology and Therapy
Humaniversity Philosophy
Humaniversity Philosophy is regarded as a lifestyle founded on authenticity, friendship and creativity. Humaniversity therapists and students aspire to become masters in The Art of Being Human; to a life of love, light and laughter; to creative work and leadership; and to become change agents for a better world. Each person is encouraged and supported in discovering their unique individuality and self-realisation.
Humaniversity Psychology
Humaniversity Psychology regards love as the fundamental essence and nature of the human being and that the work of life (and not just thera­py) is to realise this essence. However, the funda­mental social condition is often Isolation – a con­traction from life and people – and an emotional armour made up of the survival emotions of fear, anger and pain.
Important keys to emotional health therefore, are seen as personal awareness, emotional expression, and nourishing connectedness to oth­ers, rather than intellectual analysis of the human condition.
Veeresh Yuson-Sanchez identified three fears of the human psyche as critical not only to therapeutic work, but also to existential and spiritu­al anxieties – the fear of insanity, orgasm and death. Humaniversity psychology and therapy addresses these fears. Veeresh identified three agents of change in human behaviour – love, shock and awareness. Knowing this, helps others both to understand and deal with their circumstances and nature. All three factors are integrated into Humaniversity therapy to encourage productive change and growth.
Humaniversity Psychology adopts the three authenticity principles as healthy self-image ideals for a person undergoing therapy:
You are Loveable
You are a Buddha
You are the Master of your Life.
In communion with other people, and life in general, Humaniversity psychology promotes an under­ standing and practice of love and meditation. Humaniversity psychology encourages a focus on:
Purpose in Life
Creative Work
Loving Relationships.
The Art of Friendship is cen­tral to the Humaniversity's work.
Humaniversity Therapy
Humaniversity therapy occurs within a community environment based on friendship, co­operation and responsibility. This environment is maintained by an intense, awareness-oriented daily schedule, engaging therapeutic sessions and workshops. We adopts a multi-therapeutic approach: a synthesis of diverse techniques and influences including encounter, scream therapy, bio-energetics, authority, creativity, sexuality, meditation, sensitivity, natural healing, music and dance, awareness and communication. We accommodate a multi-symptomatic treatment group: participants with diverse psychological indications undergo the same therapy process together. Participants are vitally involved in the management of the commu­nity.
Our job here is to free people up to be themselves. I want everyone to develop their total human ability – everyone is unique! That's the basis of being a master. Once your awareness has grown enough, then give and share your love! The world needs that!
-Veeresh