How to get to the Humaniversity
The Humaniversity is located in Egmond aan Zee, a village on the north-west coast of Holland, about an hour from Amsterdam and Schiphol Airport.
By Public Transportation from Amsterdam or Schiphol Airport:
By Train & Taxi: Take the train from Schiphol Airport or Amsterdam Central Station to Heiloo
Station (info at www.ns.nl). If you are coming from the airport, you will need to change trains at Sloterdijk Station (or Zaandam Station) and the journey takes around one hour. When you buy your train ticket at Schiphol Airport ask the train information desk what time your train is expected to arrive in Heiloo. While still at the airport, call the taxi company Zwart, 0031 (0)72 533-1313 and reserve a taxi from Heiloo to the Humaniversity that fits with your expected arrival time. That way you won't have to wait too long at Heiloo.
To return to Heiloo Stationyou need to call Taxi Zwart from your phone, leaving your name and number with them. Call them well in advance, especially for very early or late pick-up times.
By Train & Bus: It is also possible to reach the Humaniversity entirely by public transport, using a train and then a bus instead of a taxi. Please be aware that the bus services are not available at all times. To plan your route, use the very helpful website www.9292.nl/en. Fill in your starting point in the Netherlands, such as Schiphol Station (train station inside the airport), and then put our address, Dr Wiardi Beckmanlaan 4, Egmond aan Zee, as the destination. It will then give you step-by-step instructions on how to get here including all connections.
By Car: Drive on the A9 to the roundabout at Alkmaar. Then take the N9, towards Den Helder and follow the signs to Egmond, after that Egmond aan Zee and continue until you see the Humaniversity on your right.
If you are arriving by car, you need to reserve a parking space in advance, as we have limited parking on our premises. Please send us details of your vehicle in advance. Please be aware that at times when we have many cars arriving you will need to park on the street. Parking on the street is up to € 10.-/day, but is free from 1st November to 28th February.In the Booking Office you will be informed about where you can park.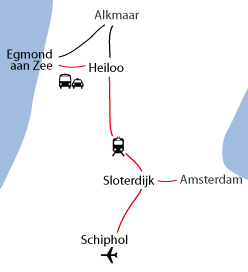 Address
OSHO HumaniversityDr. Wiardi Beckmanlaan 41931BW Egmond aan Zee Netherlands
Tel: +31 72 506 4114